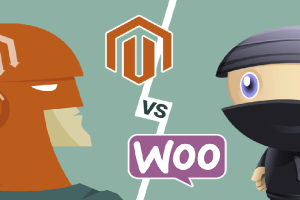 For many years magento ruled the roost in the e-commerce world. There has always been other contenders for example Open Cart, OScommerce, Zencart, Prestashop , Xcart and others that have fallen by the wayside. Newer hosted arrivals like Big commerce and shopify have all cluttered the market to make picking your first e-commerce system a complex task.
The three non hosted (because Shopify vs Big Commerce will be coming soon for hosted ecommerce seekers) main players in e-commerce essentially are magento and woocommerce and open cart but this guide will purely be looking at Woocommerce v Magento.
There is not necessarily one right solution for you when it comes to e-commerce because different platforms bring different benefits and different negatives but you need to look at your own company's needs and then pick your system based on that.
Both platforms have their own groups of fanatical supporters generally people are to be news on that platform for years and know all its nuances and strengths and weaknesses.
Is Magento or Woocommerce more expensive?
Magento is a far more expensive platform to develop; ecommerce expert Andrew at SEO leaders has worked with magento pretty much since the earliest version one came out and describes it as a complex but very versatile platform. The development skill and time needed to produce a like-for-like store is much heavier with magento.  Woocommerce on the other hand has a lot more developers available because it is such a popular platform and it also has a lot of capacity with plug-in availability and plug-ins are also far cheaper. Whereas you can potentially find a developer for your woocommerce project on freelancer doing the same thing for a Magento project is highly unlikely to be successful, such is the knowledge and costs of development.
Years of experience developing Magento tell us that you need a team of developers who are all very conversant with your site, your business goals, your product ranges, and the functionality that you are seeking from your site. Good Magento developers are also a rare breed, especially ones who have been in the Magento developing game since the earliest v1.x versions. Magento 2 is also a new skill set for developers who have not worked with it yet; the framework is totally different in many respects but skills are still transferrable between the two version platforms. However, plugins and themes are not, so you can't take your already invested in plugins and themes from a V1 to V2 migration as they are to all intents and purposes, quite different from a codebase point of view.
Both platforms are completely free, however there is an enterprise and cloud version of Magento which is more for medium to large businesses; the Magento suite is owned by Adobe inc. This means that only the open source version of Magento 2 is free. The commercial versions run to big cost in annual cost alone (development cost is on top of these prices!) See our price table below to see how much Magento 2 Enterprise and Magento Cloud cost:
Magento 2 Cost Comparison Table
Gross Sales Revenue
Magento 2 Enterprise
Edition (EE) Cost
Magento 2 Enterprise Cloud
Edition (ECE) Cost*
£0 – £760,000
£16,726
£30,412
£760,000 – £3,801,000
£24,330
£41,817
£3,801,000 – £7,600,000
£37,000
£60,000
£7,600,000 – £19,000,000
£57,000
£91,000
£19,000,000 – £38,000,000
£95,000
£145,000
* Numbers here are based on quoted on the Magento book pricing. As a company, they are very transparent in saying that the combined cost of hosting and Enterprise licensing is negotiable. These costs are Annual prices.
Magento 2 CE inherits a lot of the platform-wide architectural improvements made in the Magento Enterprise products, with notable exceptions around its scalability, promotions, merchandising, security, loyalty, and of course customer support.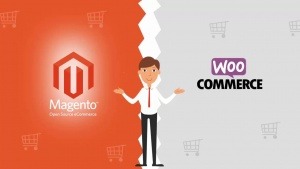 Both products support unlimited products, both operate on a theme-based system, both have development communities behind them; however woocommerce is far more amateur owner friendly in many areas with free plug-ins available whereas magento is much more commercial and nearly all good plug-ins are paid and more expensive to buy and integrate. Building a fully featured custom store in either package will require development work, but much less for Woocommerce.
The flip side to this is that a lot about Woocommerce is a pain to manage for any stores over a reasonable amount of products (like 100!). It is after all a plugin for WordPress, whereas Magento has been developed from day one to be a bulletproof ecommerce system
Magento website traffic capacity vs Woocommerce traffic capability
Some people have debated whether woocommerce can stand up to the same level of traffic and order processing is Magento. What you need to ask yourself here is what does your website currently have in terms of traffic? do you have 1 million visitors per month and thousands of transactions per day?
If that is the case then it is very likely you will be looking for an enterprise level solution liek Magento Cloud however many huge sites run on Woocommerce with no problem at all. In fact over the years as certified Magento developers we have found Magento can be quite clunky and is a hard system to optimise on many different levels with one change in one area having massive potential knock-on effects to other parts of the site structure which all takes time to bugfix.
In summary our advice would be to go for woocommerce unless you have a really big budget and grand plans; or are already running a very busy site; granted it is not solely designed for e-commerce like Magento is , so some of the reporting and other things like product management are not as advanced as Magento but can be made with a bit of work to do absolutely everything you will ever need.
Is Magento or Woocommerce best for SEO
The flipside of this is because it is designed as a content management system it is inherently better for SEO and it will not take you hours to add one article to your blog or integrate a fishpig extension to get WordPress to run inside your Magento shell, where then you cannot use any plug-ins apart from specific ones you then buy from the fish pig store. Don't get me wrong, fish pig is a fantastic Magento developer but it can get very very arduous and time-consuming and as a small medium or even a large web business your time can be better spent on promoting and bringing customers to your site rather than trying to fix and maintain your store all the time. Magento one is going to remain being supported with security updates until June 2020 but it will not have any further developments apart from by developers within the community after that date. It is for this reason that if you are going to use Magento then you should always use Magento V2 which is a complete step change from Magento 1.9.XX which is the latest major versions of the Magento evolution.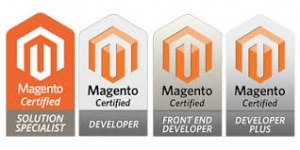 Can any developer work on Magento or Woocommerce
In summary we would say no. Our developer pool includes certified Magento developers with a wide range of skills. Proper Magento developers usually work primarily on Magento, so if anyone says 'I can do anything with Magento or WordPress' they are probably best avoided because Magento demands sole focus for full custom projects; and Magento architecture and WordPress architecture are very different.// Note we now only offer our preferred platform Opencart or Woocommerce developement services.
Conclusion – Do I use Magento or Woocommerce for my ecommerce site
This is an answer that changes based on where you are at now.
If you are a sole trader or small budget with a low budget (even if you have big goals, your budget is the key factor initially) then we would advise Woocommerce everytime. We can get you up and running with a secure woocommerce store on your own domain name for a very reasonable amount.
If you are an established business, or a startup with a good budget, then we would lean towards Magento 2 CE or Opencart due to their scaleability, speed and infinite customisation capabilities.
We have built a significant amount of Magento 2 stores and have a large amount of experience between our developer team of 6 Magento certified developers (plus our other experts); while this is a much more expensive option to build a custom site in, it really does give you a very strong ecommerce foundation indeed to build a significant business on. Please note we now focus on our core specialist of Opencart or Woocommerce.
What are the on costs of Magento and Woocommerce
For all but the most tech savvy business owner, a Magento store will require some maintenance on an ongoing basis by competent developers, WordPress is less onerous but will certainly need attention on at least a weekly or bi-weekly basis. For example, updating plugins is an essential part of keeping your store secure, but on the odd occasion one update can break other features on the site, and then you can be requiring a skilled developer pretty darn quick